Popular video generation platform expands its offerings to provide a comprehensive video generative experience for users.
LOS ANGELES, April 4, 2023 (Newswire.com) - Movio, the innovative video generation platform, today announces its rebranding as HeyGen. The rebranding highlights the company's commitment to offering a comprehensive video generative experience for its users, evolving beyond its initial focus on spokesperson video generation.
The AI-driven video generation market has been gaining momentum with a few key players and recent developments. While text and image generation have become popular, video generation remains a blue ocean, presenting opportunities for both established companies and startups to disrupt the industry. Big names like Canva and Adobe are actively integrating generative AI into their existing products and spinning up new product lines.
Key startup players in the market include runway.ml, which recently introduced Gen-1 and Gen-2 for text-to-video generation; Descript, which secured $50 million in funding from OpenAI; Synthesia, a UK-based startup focusing on avatar videos for learning and development; and Typeface, founded by a former Adobe CTO, which combines generative AI with branding, audience targeting, and content workflows.
The recent advances in large language models, such as ChatGPT and GPT-4, have also attracted new startups to the space. Efforts like OpenAI's plugin and LangChain are integrating these models into video creation workflows, aiming to reinvent the way videos are made.
Despite the crowded market, HeyGen, headquartered in Los Angeles, has experienced rapid growth since its launch nine months ago, with a reported 50% month-over-month growth rate. The company is doubling down on creating a generative video future.
Josh Xu, the founder of Movio, has been a visionary in the AI-driven video generation space. Two years ago, he was one of the first to talk about "replacing cameras" with AI technology - a concept that is widely recognized today. He has been passionate about building a platform for creators, by creators, once stating, "Movio was built for creators and built by creators."
HeyGen aims to simplify the content creation process, making it feel like working with a personal assistant. Users can expect a range of new features, including the ability to turn URLs and prompts into videos. The platform also provides more personalization options for avatars, allowing users to save their favorite looks and create new ones with text descriptions.
Initially, Movio was a platform focused on spokesperson video generation, competing with UK-based Synthesia. However, the company has decided to expand HeyGen's offerings to provide not just spokesperson videos, but an end-to-end video generative experience. Josh Xu said, "Creating spokesperson videos was just the first step. With HeyGen, we're tackling the video generation problem, starting with avatars and then expanding to a broader context."
Potential challenges for HeyGen include the fierce competition from both established companies and startups in the AI-driven video generation market, as well as the need to continually innovate and adapt to emerging technologies and trends in the space.
The HeyGen team attributes much of its success to the valuable support, feedback, and enthusiasm received from its user community. Josh Xu emphasized the importance of the user community, saying, "Our users are the driving force behind HeyGen's success. We're dedicated to maintaining strong bonds with them and making HeyGen a go-to platform for video creation."
About HeyGen
HeyGen is an innovative generative AI video platform that provides a seamless, end-to-end video generation experience. If you want to learn more about HeyGen's new features and explore the exciting possibilities of AI-driven video generation, please visit HeyGen website.
Contact Information:
Joy Smith
Director of Marketing
[email protected]
9173407216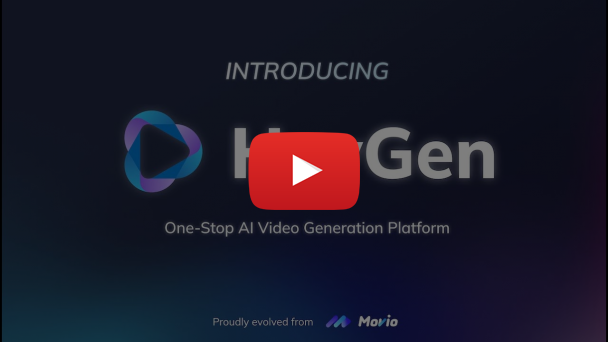 Original Source:
Movio Rebrands to HeyGen: Introducing the Future of AI-Driven Video Generation